Feng Shui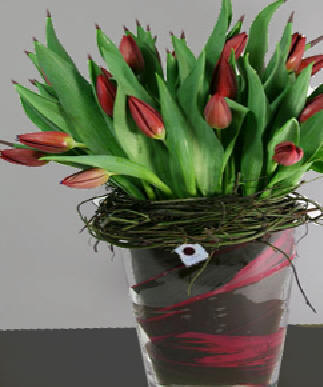 Feng Shui an ancient Oriental method of divining good and bad forces is about the flow and containment of Chi. Chi is the flow of energy in nature, in the environment and within the body through the use of five elements. The Five elements are: Wood, Fire, Earth, Metal and Water. The goal of feng shui is to arrange your living space in a harmonious way while taking into consideration the cyclical nature of change.

Living flowers and plants play a big part in harnessing or altering this beneficial energy by enhancing the chi energy through the use of flowers and plants in various colours and shapes. It is well known that the ancient art of feng shui arranging brings balance to your living and working space. This in effect helps increase the quality of your rest and work. Below are a list of flowers and their benefits, however remember to remove spent flowers and dead plants from your space as it associated with bad energy.

An entrance vase of fresh flowers will welcome you and all your guests and improve on the flow of beneficial energy Chi.

A white vase with red or pink fresh flowers on the bedside table will bring more romance into your life.

Tulips carry metal energy. Red tulips in a western aspect create romance and pink tulips pleasure. Tulips are simple yet very effective, true magnificence in simplicity

Lilies are considered one of the eight treasures of the world. They are regarded as an emblem of summer and abundance, and are very favourable flowers to have in the home. They can also be a settling influence and can be used to quiet down an over-active part of your home, thus bringing the ever desired and calming peace.

Sunflowers have fire energy and a powerful stabilizing influence. Energize your surroundings for a more productive environment.
Cornflowers bring balance in love, family and work.

Carnations, the pink and red ones, enhance romance and pleasure, while the white carnations add dignity and serenity. They say they are most effective in large bunches.

Anemone is associated with metal energy and red ones in a west facing bathroom could help prevent chi energy from dispersing.

Mimosa with its abundance of small yellow balls increases the chi energy of the centre. So place them in the centre of your home to keep your life more centered. Being centered makes you stable, and stability is the key to success.
Roses will increase the chi energy of romance and style especially if placed in the west. Is your bedroom in the west part of the house or apartment? Then you know what to do.

Peonies and Amaryllis strengthen male energy. They are emblems of loyalty and affection and can strengthen the heart and prevent blood disorders and congestions. Peonies and Amaryllis with plenty of flowers and leaves are an omen of good fortune.

Chrysanthemums bring laughter and happiness to your home. The Chinese have beautiful names for them such as Heaven Full of Stars and Drunk with Wine made from the Peaches of the Immortals. Chrysanthemums are associated with a life of relaxation and retirement.

The Narcissus is known as the Water Fairy. Grown from bulbs and forced into bloom exactly at the New Year, it brings good luck for the next twelve months.

Iris is associated with vitality, passion and free energy.

Orchids will encourage harmony and peace especially after arguments.
Having plants around the house or office is beneficial in many ways. Plants clean and freshen the air you breathe and bring beneficial energy to your surroundings. Living and working in such an environment improves your results. Placing plants in the east, south or south- east corners maximize luck.
Green is the colour of growth. Green plants reflect peace and harmony and will ease troubled minds. You should have at least one big plant in each room to freshen the atmosphere, clean the air, and bring beneficial energy. They alleviate all stress, and represent balance.
Round-leafed plants encourage good energy and bring good fortune and are especially good in areas that have electronic equipment.
Bushy plants slow down the chi as it mingles with the leaves and are good for long corridors.
Plants in multiples of three can counteract disharmony in relationships, except in the bedroom.
Jade plants or money trees are particularly auspicious.

Jasmine is the plant of friendship and a good gift to take when visiting.

Spiky plants can bring bad energy, but they can also reactivate areas of sluggish energy in the home, thus moving chi around.